Service
How to get to the congress venue
Parking
Underground car park (Jarrestr.): If you stamp your parking ticket at the Kampnagel box office, you pay a flat fee of € 4 for 24 hours (instead of € 1,50/h).
Public Transport
- From the stations U-Mundsburg, U-Saarlandstraße and U/S-Barmbek with the Busses 172/173 directly to Kampnagel.
- alternatively 10 min. by foot from U3-Borgweg or from Bus 6/25 from Mühlenkamp (station Gertigstraße)
Find your route
with public transport:
www.hvv.de
by car:
www.map24.de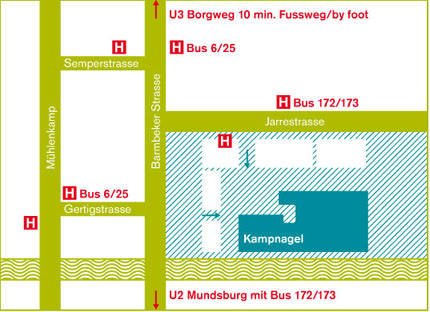 Registration and Check-In
You can register here for your participation at the Dance Congress. Registration is binding. Check-in papers can be picked up at the check-in and info counter at the Kampnagel box office.
Opening hours:
Thursday, November 5th: 12.00-23.00
Friday, November 6th: 08.30-21.00
Saturday, November 7th: 08.30-21.00
Sunday, November 8th: 08.30-18.00
Please note: To be able to attend the opening performance "Out of Context" / les ballets C de la B (November 5th, 19.30, K6), you must get your accreditation before 19.00 o'clock. Otherwise we cannot guarantee entry.